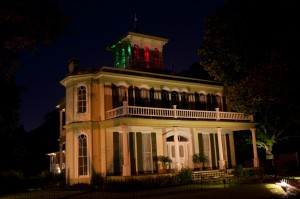 The House of the Seasons
Written by: Richard Collins, T.J. Kuenster, and Dan Kuenster
Illustrated by: Dan Kuenster
Published by: House of the Seasons
Sale price: $10.95
The House of the Seasons is pleased to announce the publication of its first historical photographic illustrated novel, The House of the Seasons. The novel was co-authored by Richard Collins, Dan Kuenster, and T.J. Kuenster.
Richard Collins, a Texas entrepreneur, is president of the House of the Seasons and CEO of istation, an interactive education company in Dallas. Dan Kuenster is an Emmy-award winning animator and the Executive Vice President of Art and Animation at istation. T. J. Kuenster is the Musical Director of the Glen Campbell Band and is a well-known songwriter. His credits include original songs on the soundtracks for the Don Bluth animated films All Dogs Go to Heaven and Rockadoodle.
The House of the Seasons centers around Jeannie Epperson, the daughter of the home's builder, Benjamin Epperson, a prominent lawyer, entrepreneur, railroad man, and political leader.
The novel tells the haunting story of Jeannie's childhood and her friendship with a ghost during the time of the Civil War. Soon after Jeannie's birth, her mother dies. Jeannie's Aunt Agatha, an old maid of twenty-four, comes to take care of the child. An old friend, Texas Ranger Edward Hamilton, leaves the Rangers to work for Mr. Epperson and falls in love with Agatha. The Civil War brings tragedy to the family, and it changes their lives.
The story is based on historical facts and characters. It weaves together several true events from the history of the home. One of the important characters in the book is Sadie, Jeannie's cat, her loyal friend and companion. Sadie lives at the House of the Seasons today and is beloved by all the guests who visit the home.
The House of the Seasons is a wonderful story for children of all ages from 6 to 86. The authors will be in Jefferson the last two weekends in October to sign first editions of the novel. The book is on sale at Beauty and the Book, the House of the Seasons, and several locations around Jefferson, for $10.95.
Tags: Carriage House Bed and Breakfast, History, Living History