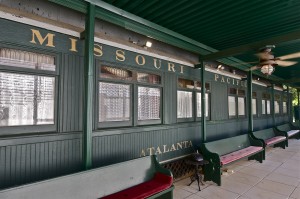 ALL ABOARD for Jefferson Train Days, May 17th and 18th.  Tickets are now available online at www.JeffersonTrainDays.com or call 866-398-2038. One boarding pass admits you to four destinations. You will want to get your tickets early as seating is limited on the train.
Ride the Historic Jefferson Railway and experience The Lonely West Traveling Gun Show, including cowboys, guns and a train robbery.  Visit the R.D. Moses model train layout at the Jefferson Historical Society and Museum.  Tour the resplendent business car, Atalanta, that belonged to the rail baron, Jay Gould. See the model train show, layouts and vendors at the Jefferson Transportation Center.
Hear the sounds of yesterday at the Whistle Toot where more than thirty whistles will sound off.  Patrons can blow the whistles and whistle enthusiasts can bring their own. There will be educational clinics for model railroaders, too.  Come out for the day or for the weekend. There is a lot for the family to do in Jefferson Texas.
Tags: Carriage House Bed and Breakfast, Historic Jefferson Railway, Jefferson Texas, Weekend Getaway