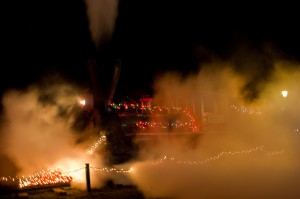 Rail of Lights New Year's Train – Jefferson, Texas

Blast into the New Year aboard the Rail of Lights New Year's Train in Jefferson, Texas. The unforgettable ride on an old-fashioned steam train departs December 30th at 7 and 8 and on December 31st, New Year's Eve, at 8:30, 9:30 and 11:30. Passengers will enjoy lighted scenes along the Cypress Bayou River as they hear the tale of New Year's traditions, customs and superstitions.
The patrons will receive New Year's hats and noisemakers. Each train will include a simulation of the New Year's Eve Ball dropping in Times Square followed by a fantastic fire works show.
Hear about the unique New Year's customs across the United States, including stories of the Good Luck Dragon in Oriental, North Carolina; Christkindl Market in Akron, Ohio; the Live Toy Soldier drum and light show in Bellevue, Washington; and Bourbon Street in New Orleans.
Children and adults alike will be awed by the historic railroad depot decked out with gingerbread house theme. The wonderful narrated tour will also give our patrons an opportunity to sing some of their favorite New Year's songs as they discover the joy of New Years along the river.
Plan to stay the weekend in the Cypress Bayou RV Park, just one mile from Jefferson, and watch all of the fireworks as the train comes through the park. Ask about our holiday get-away pricing of $15 per night.
Ticket Prices: First Class $21; Coach Class: Adults $16.50; Lap children under 4 are free. First Class is offered in a beautiful historic, enclosed coach. If you are riding Coach Class, be sure to dress warmly and bring a blanket as you will be riding in open cars. Seats are limited, so purchase your tickets early.
Tickets are available by phone, on-line at www.jeffersonrailway.com and in person during business hours at the Historic Jefferson Railway Depot at 400 E. Austin, Jefferson Texas. Call 866-398-2038 or visit our website for ticket information.
Jefferson is nestled deep in the Piney Woods of East Texas and seems frozen in time. It is a charming town and an elegant reminder of a bygone era. The downtown area will be aglow with lights and greenery during the holiday season. There are over a hundred buildings in the city with historical markers. Many historic homes offer bed and breakfast accommodations. Dozens of other historic buildings house museums, craft and antique shops and restaurants.
New Year's is a holiday celebrated around the World. You'll want to make Jefferson and the New Year's Train a part of your annual holiday festivities.
Tags: Carriage House B&B, Christmas, Historic Jefferson Railway, Hotels, Jefferson Texas, Romantic Getaway, Vacation, Weekend Getaway